Congress Resolution: Enslavement of African people today in Mauritania
Arbeitskreis Panafrikanismus e.V
5th Pan-African Congress in Munich 2015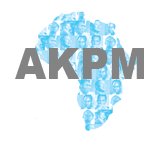 Resolution: Enslavement of African people today in Mauritania
Munich, October 11. 2015
WE, participants at the 5th Pan-African Congress meeting in Munich, Germany
TAKING into consideration the absence of concrete measures to effectively eradicate the enslavement of African people in Mauritania
RECOGNIZING the right of each person to enjoy all economic, social and political rights
EXPRESSING our strong condemnation of the measures being taken against our colleague and brother, Biram Dah Abeid and all the members of the anti-slavery movement in Mauritania
TAKING COGNIZANCE of all African and international Conventions signed and ratified
by the government of Mauritania
RECALLING all the African and international Human Rights conventions, including those dealing explicitly with the eradication of slavery and racism
ENDORSING the objectives of the United Nations Decade for People of African descent
and the declaration and programme of action of the Durban Conference against Racism
EXPRESSING appreciation for the work of the Anti-Slavery Movement and the uncompromising solidarity to the Haratine people of Mauritania who are still enslaved.
we HEREBY commit ourselves to the following
To intensify the fight against racism and all modern forms of slavery
To campaign for the freedom of our sisters and brothers in Mauritania
To create a German branch of the Anti-Slavery Movement in Germany
WE HEREBY call upon the government of Mauritania to
Immediately release Mr Biram Dah Abeid, winner of the 2013 United Nations Human rights award along with his companions
Take necessary measures for the prohibition of all racist interpretations of Islam
Eradicate all forms of slavery and racism in Mauritania
Ensure social balance in the education system, the government, the parliament, the health system, the army, and all other national institutions
Decline any cooperation agreement for labour exchange between Mauritania, Saudi Arabia, the United Emirates and any other country bearing the risks of transforming young girls, women and young men into enslaved persons
We hereby call upon the European Union and all international cooperation partners
to impose sanctions against Mauritania if anti-slavery laws are not effectively implemented.

FINALLY, WE SOLEMNLY DECLARE THAT WE WILL NOT BE FREE AS LONG AS ALL OUR BLACK SISTERS AND BROTHERS IN MAURITANIA ARE NOT BE FREE!